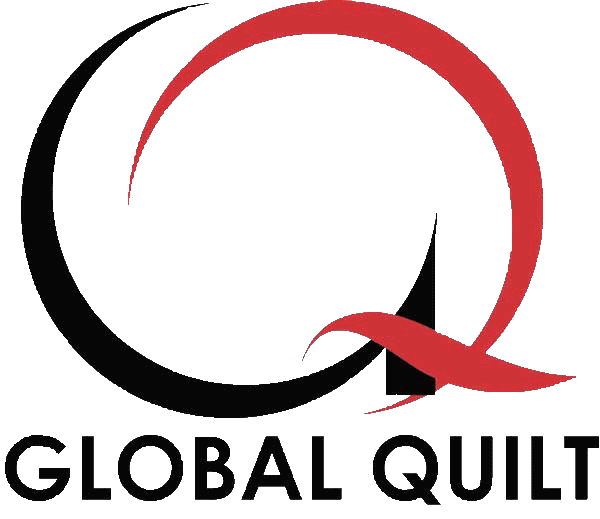 Not affiliated with The NAMES Project Foundation
(click image for larger view)

IN THIS SECTION:
Mission Statement
Aims
Introduction, Quilt background
Founders & board
Global Quilt's mission is to use the International AIDS Memorial Quilt to raise awareness of the impact of HIV/AIDS to counter silence and stigma, and to honor the memory of people who have died from HIV/AIDS. Global Quilt and its affiliates focus on countries where HIV/AIDS meets with stigma and rejection, especially countries in the southern hemisphere and where there is a low level of awareness and action to fight the impact of the disease.
Aims of Global Quilt:
To effectively link International Quilt initiatives throughout the world to a global sistering (twinning) program and provide information exchange, programs, and technical assistance;
To provide an international display calendar of the International AIDS Memorial Quilt;
To link Quilt affiliates with other global organizations, other International Quilt organizations and affiliates, and International HIV/AIDS Alliances;
To assist in creating new Quilt initiatives in countries to help break the silence around HIV/AIDS;
To show the International AIDS Memorial Quilts in all possible meetings and places. Programs have been developed specifically for international partners, using tools that include the International AIDS Memorial Quilt, to bring a message of hope, remembrance, and to raise awareness of the disease. Programs are available for corporations, health related institutions, places of worship, schools and universities, HIV/AIDS conferences, World AIDS Day, and prevention seminars throughout the world.
Through international partners and affiliates, Global Quilt arranges displays of the International AIDS Quilt around the world to enhance HIV/AIDS education, prevention, stigma and discrimination efforts. In return, it offers programs for fundraising, empowerment, technical assistance, panelmaking workshops, and information sharing.
Global Quilt and its network hopes to provide program continuity and increase the potential for growth and development of the International AIDS Memorial Quilt.
(top)
The NAMES Project AIDS Memorial Quilt began in 1987 by Cleve Jones in San Francisco, California. The intention was to memorialize those who had died from AIDS and to artistically protest the ignorance and unwillingness of government authorities to effectively deal with HIV and AIDS. Since then, the Quilt has played a major role in breaking the silence in the US and in countries around the world. The United States Quilt has been displayed in its entirety in Washington, DC five times (1987, 1988, 1989, 1992, and 1996), and in component parts hundreds of times in other cities in the USA around the world.
In the US and in Europe, advances in medical treatment are allowing more people to be live with HIV/AIDS. The situation in the developing world is drastically different. Millions of people are infected with HIV in Africa, Asia, Eastern Europe, the Caribbean and South America. In many cases local authorities are not dealing effectively with the rising numbers of people infected by HIV and living with HIV/AIDS, and the far reaching cultural and economical consequences.
The AIDS Memorial Quilt continues to significantly contribute in raising awareness and helps break the silence and stigma of the disease in these countries. The Quilt is a powerful instrument to bring a direct and emotional connection to the personal loss and suffering of HIV/AIDS.
Today, there is an existing network of more than 30 AIDS Quilts Affiliates throughout the world. Global Quilt, an NGO based in the Netherlands, was formed in 2004 to mobilize this network of Affiliates, share programs to help in the fight against HIV/AIDS, and create global awareness in countries where the need is greatest. Unfortunately, some have become inactive or have closed their doors because of lack of funding or volunteers.
Founders of the Global Quilt Network
Jeff Bosacki - Board President of International AIDS Prevention Initiative (IAPI); initiator of the US-South African twinning activities, has brought the Quilt to Africa, Asia, Australia, the Caribbean, Europe, and Russia, and more than 100 displays of the Quilt in the United States.
Deny de Jong: (former) co-ordinator of the Euro-Quilt network, initiator and organizer of the Gay Games European Quilt Tour 1998, and 10 global Quilt exhibitions including all major exhibitions of the Quilt during the World AIDS conferences since 1992. Mr. de Jong is one of the Directors of the Dutch NAMES Project.
Global Quilt is led by a board of committed persons representing all continents. Those with interest to inquire about board member or committee positions, please contact Global Quilt here (GlobalQuilt@aol.com).
Europe: Deny de Jong, Netherlands
USA: Jeffry B. Bosacki, New York
Asia: Nenet Ortgea, Philippines
Australia: Colin Krycer, Melbourne
So. America: Barbara Martinez, Venezuela
Africa: pending
(top)
This site was designed by and maintained by james Fair and Jeff Bosacki.
Questions, comments? Please don't hesitate to E-Mail us.
Global Quilt, Inc. © 2006